12 Volt Air Pumps & 12 Volt Diaphragm Air Compressors for DIY Solar Aeration

Building a solar aerator using cheap solar air pumps and direct current oilless compressors
Over the years we have tested and evaluated the staying power and effectiveness of many DC 12V and 24 Volt pumps and one thing we've constantly noticed is that no matter what type of pump you buy, these 12V pumps are not going to give you years of service so buy a good cheap one!

When I say cheap I don't mean some ebay special deal on a pump made in some far away country without care for product consistency I mean buy a good quality pond pump that doesn't cost too much because you will be buying replacements every 3 to 9 months of continuos usage.

If someone gives you a one year warranty then you might want to take a closer look because the pumps we use have a 3 month and 6 month warranty. That may not sound good...but that is the reality of solar dc systems as the current technology exists.

Up until now most DC air pumps and battery powered DC compressors had limited reliability. Most DC pumps we've seen offer a 3 to 6 month warranty and if you don't know exactly what you're doing as far as setting up your solar aeration system you can quickly burn out your motor.

We have finally found a commercial-grade line of pumps that come with a one-year warranty and these diaphragm, linear air compressors are easy to service and provide long lasting battery or DC current performance. These commercial-grade DC air compressors offer superb performance and durability.



DC Air Pumps


Price Includes USA Shipping
These direct current air pumps both come with 12" pigtails for connection to your battery or solar electrical system. Also includes 6" of outlet hose (3/8" ID) and a plastic manifold. More info
25 Watt DC Air Pump
0.8 CFM Open Flow 4 PSI maximum - $150
80 Watt DC Air Pump
1.4 CFM Open Flow 6 PSI maximum - $200
DC Air Compressor


Price Includes USA Shipping
These 12V workhorses have proven to be the most reliable pumps we've used. These high-flow, high-pressure compressors come with 9" pigtail wiring for quick connection to your your battery or current controller. Each one includes 2 feet of 3/8" ID outlet hose and an air inlet filter. They are oilless with ball bearing construction and low amperage draw. More info
DC Air Compressor
1.6 CFM Open Flow 8 PSI maximum - $388
Professional Grade DC Air Compressors


Price Includes USA Shipping
Perfect for use with solar power, these commercial-grade DC air compressors offer unsurpassed performance and longevity. Typical applications include solar aeration systems or battery powered aeration systems and live fish transport on trucks or fishing boats; however, they can also be used in emergency situations. The simple design of these DC air pumps makes them easy to maintain and repair (oilless, easily accessible brushes and diaphragm). Pigtail wires and 3/4" 90º ell are included; Models that include cases do not require additional housing for outdoor use. One-year warranty. . More info
40 LPM DC Pump
40 Watts 6 PSI max - $295
80 LPM DC Pump
3.2 CFM 6 PSI max - $425
100 LPM DC Pump
3.5 CFM 5 PSI max - $450

Secure Shopping with Credit Card or Paypal®
More products available at the
Pond Report Store
It's not always possible to run some 14/3 gauge wire down from the nearest hydroelectric pole across a field into a valley and around a gully to reach a pond to power a pond aerator. A windmill is nice if you have wind but when that isn't the case the only option is to build a solar aerator. Often, as many of our friends know by looking on the Internet, a solar aeration system that has any sort of potential for long-lasting sustainabilty is going to cost upwards of $5000 and beyond. At that price I know a lot of pond owners who would rather blow bubbles into their pond through straws while canoeing to keep the fish alive and algae down.

Typical applications include live fish transport on trucks or fishing boats; however, they can also be used in emergency or solar-powered situations. The simple design of these DC air pumps makes them easy to maintain and repair (oilless, easily accessible brushes and diaphragm).

Pigtail wires for connection to your battery or DC configuration included. 60 LPM and 100 LPM models include either plastic or steel housing cases and do not require additional housing for outdoor use. 30 LPM unit has no housing and must be enclosed for outdoor use but this 30 LPM unit includes a lighter adapter to fit into car lighter plugs as well as pigtail wires.

Running an air pump off a car battery is a much cheaper option and while I am not a solar aeration engineer I know that a cheap direct current air pump or diaphragm compressor can be bought for very cheap. Now I know that an expert in solar panels and off-the-grid engineering could explain what sort of linear current booster is needed to correctly match the starting amperage and running amps of the pump but I can't even come close to understanding let alone explaining.

I know one thing though. A Direct Current 12 Volt air pump or air compressor will run off of a battery; a deep cycle battery, car battery or boat battery but of what sort brand or amp hour rating I couldn't tell you. All I can do is review the solar air pumps we've used and heard about over the years and offer some good, cheap pumps for you all who know what sort of solar panel setup and current booster is required to make it work.

Other High Rated and Reviewed Solar & DC Air Pumps
Over the years we have tested and evaluated the staying power and effectiveness of many DC 12V and 24 Volt pumps and one thing we've constantly noticed is that no matter what type of pump you buy, these 12V pumps are not going to give you years of service so buy a good cheap one!

When I say cheap I don't mean some ebay special deal on a pump made in some far away country without care for product consistency I mean buy a good quality pond pump that doesn't cost too much because you will be buying replacements every 3 to 9 months of continuos usage. If someone gives you a one year warranty then you might want to take a closer look because the pumps we use have a 3 month and 6 month warranty. That may not sound good...but that is the reality of solar dc systems as the current technology exists.

Thomas Industries - Thomas DC Pumps Reviews
Thomas 5010 Air Pump - Thomas Diaphragm Pump 5002 VD BLDC - Thomas 5010 VD DC - Decent Pumps but higher than desired burnout rate and some issues in consistent pump construction. The 5010 series is in the range of 0.09 CFM @ 2.9 PSI which is barely enough to function a single small airstone and we found that parameter least pleasant. The Thomas 12 Volt 1/10hp Air Pump is similar; a good product.

Thomas 007 & 008 Series Air Pumps - Very good pressure delivering over 20 PSI and 0.6 CFM make this series decent but again the units we've seen featured in systems cooked too quick.

Thomas 907 and 2907 Series Air Compressors - These are good quality but high priced and again the inconsistency of the units makes us a bit nervous but the fact they can deliver 3.2 CFM and 14 PSI make this little grinders seem like a good deal if you can buy a few when they fry.


Complete Solar Aeration Systems
Solar Powered Aerator- 4 diffuser system w/ 240 watt solar panel for deep water and sewage ponds. (max depth 10 ft) : Includes air pump, solar panel, tubing, air diffusers, connectors and everything you need. If you want solar powered aeration this is the most affordable package...it's not a toy...it's a working solar aerator!
Complete Solar Powered Pond Aerator




All our Solar Bubbler Pump Kits come complete with 12V DC submersible bubblers, anchoring
Solar Aerator with 2 year pump motor warranty



No wiring or outside electricity required Air powered bubbler pumps up to 4 liters per minute Available draft tube mixes at any pond depth Simply mount facing the sun and drop diffuser in water Charges and runs off battery for up to 3 days of cloudy weather

Pond Aerator is Solar Powered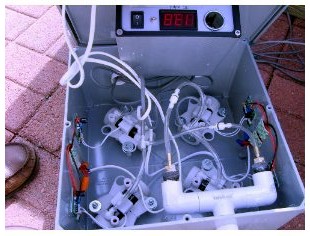 Pond aerator improves water quality for aquaculture, water supply, and wastewater treatment. Solar powered pond aerator is 100% powered by the sun. Unit is designed for 24/7 operation using user supplied 12 volt marine battery. This complete solar aerator is an excellent value.

Stock Tank Deicer and Solar Powered Aerator



PEC Oxygenaerator EKBS10 Kits. An easy way to aerate any pond or tank from the surface. Unit is designed for 24/7 outdoor use with integral 20 WATT SOLAR PANEL. Unit is 18x18x18, free standing or pole mounted at any level with built-in mount bracket. Aerator needs no priming, just drop diffuser hose in water. Oxygen transfer is sufficient to treat up to 1/2 acre of pond. EKBS10 Kit includes 20' of flex airline, weighted flex cap non-plugging coarse bubble mixing diffuser, and PEC S-10, linear air pump. Unit provides up to 2 liters per minute of compressed air.

Algae Busting Pond Aerator Eliminates Pond Algae



Application: 100,000 gals. maximum diffuser depth is 8 ft. without draft tube, no maximum depth when using draft tube (draft tube is sold separately). Description: 60 WATT POND AERATOR, CHARGE CONTROLLER, 12 VOLT, 8 LITER PER MINUTE, DIAPHRAGM PUMPS. SHIPPING WEIGHT 32 LBS. (use 3 of these units to meet Canadian Environment specs.)


Popular Battery Operated Pumps and Solar Pond Aerator Compressors
Read more about solar aeration systems


Pur Water
Simple DC air pumps look like a decent copy of a Thomas type blower built in to the dugout solar aerator developed by Kelln Solar:
Specifications Capacity: Aerates a 2 million gallon dugout @15ft Output: 2.9CFM Power Source: Solar Direct Compressor: Pur-Water Diaphragm continuous-duty cycle - dual Bleeder Valve System Voltage: 12V Mounting: In dugout Warranty: System - 1 year, Panels - 20 years Suitable for medium vegetation Items included with each system Pur-Water Compressor 12" Diffuser c/w Check Valve 4-50 Watt Solar Panel Panel Stand 8A Linear Current Booster Enclosure - weatherproof Spare diaphragm kit 50ft weighted hose, 50ft ¾" poly-hose
Thomas
The Thomas Pumps are used in many homemade pond aerators like the series of systems available from aeration companies who often put together their own brand of aeration systems using common parts. For example: Solar Aeration System includes: 2 - 120 W Suntech Solar panels 1 - double panel stand (does not include the post) 2 - connectors (all required connectors between panels, cables and booster) 1 - electric cable (10 meters, 30 feet long) 1 - vented wooden cabinet (treated wood with screened air vents) 1 - DC (direct current) air compressor from Thomas* 1 - linear current booster (15 AMP 12/24 Vdc) 1 - low pressure relief valve 1 - diffuser assembly (two 9" membrane discs on a self sinking base) or 50' of diffuser line, de-icing hose or bubbler line 1 - set of connectors and clamps for standard installation * Thomas 12V Compressor: Oilless diaphragm 12 Volts (one year warranty) 2.05 CFM open flow 1.70 CFM @ 5 psi 1.35 CFM @ 10 psi 0.90 CFM @ 15 psi


Sunmotor
The Sunmotor company does a good job of designing and building systems. Features of their construction Operates on solar panels or batteries Simple, rugged components Long life, low maintenance Explosion-proof rating available Custom designs upon request Applications Ventilation Aeration Sparging Soil vapour extraction


Solaer
Not sure who makes their 814 high volume compressor but they seem to work well in their all inclusive systems. ,The SB-1 Solear® Lake Bed Aeration System has been designed for smaller pond and lake applications up to 1 Surface Acre in Size. The SB-1 package system includes, 1-120 watt solar panel, 1-814 high volume compressor, wiring harness, 30 amp charge control center, adjustable manifold, 1 each-9 in duraplate™ non-clogging maintenance free diffuser, small fiberglass cabinet with sound reduction package, 1-210 amp hour deep cycle solar batteries, fittings package, 12/24 volt smart box convertor, no tubing included and 2.5 in SP mounting structure. Customer to furnish a single 2.5" sch 40 steel pipe 8-10 feet length for mounting solar panels. Optional automatic solar tracking system available. Upto 20 hours per day run time. Fully automatic system.
Email us for algae information or with your questions.



Pond Report Store | Amazon Pond Store
Algaecides & Bacteria | Deicers & Bubblers | Weed Removal | Liquid Bacteria | Pond Pumps & Fountains | Aeration | Winter Pond Care | Algae Control | Pond Liner | Muck Pellets | Build a Solar Aerator | Rotary Vane Compressors | Floating Fountains | Building a Pond | Linear Air Compressors & Pumps | Weighted Airline | Diffusers & Airstones | Bacta-Pur Bacteria | Solar Aeration Systems | DC & Battery Operated Pumps | Windmill Aeration | Dock Bubbler Packages | Building a Waterfall | Dyes & Colorants | Consultations | Questions & Answers | Links & Resources | Eurasian Milfoil | | Mosquito Control | Pondkeeper Treatments | Aeration Systems | Septic Bacteria | Grease Trap Blocks | Dissolved Oxygen Meters | SOTR & Pumping Rates | Portable Generators | Duckweed Control | UK Pond Guides & Pond Products UK | Pond Plans & Pond Building Books & Guides


© 2007 - 2016 The Pond Report

about us | privacy policy | contact us | mobile version