Fountains For Ponds & Lakes

Large and Small Fountain Aeration Packages for Ponds & Lakes
Fountains. Who hasn't seen a fountain in a park or Botanical Garden or on a golf course and said to themselves: "Wow! That is beautiful!"?

I know I have! I also know that I've seen some fountains that look like someone had run a garden hose from a sump pump and screwed a spray nozzle on the end and rigged up a homemade float out of white Styrofoam to make a floating fountain for under $50...whoo-eee did that thing like horrible, more like a stream of piddle coming from a over pressurized cherub than anything decorative.

Of course, not everyone has the budget of a golf course or the botanical gardens and some of the higher-end fountains, whether they be floating or fixed-base, can cost thousands of dollars and up but with most people's ponds a fountain can be built or installed at a reasonable price.

First, why would someone want to install a fountain? A fountain can be a very decent form of aeration actually!

The pumps in floating fountains can draw anywhere from 50 to 500 gallons per minute of water through the nozzle or propeller sprayer and this water is hoisted in the air where oxygen transfer takes place; oxygen rich droplets of water fall back to the surface of the pond.

The surface tension is broken, the water is circulated and more mixing occurs! What a great way to combine aeration with aesthetics! The sound of the water cascading down in a lovely pattern onto the surface creates a beautiful sound that can mask any unwanted traffic noise or background sounds so prevalent in urban areas; but the more delicate and fine spray mist is created the more subtle and unique the sound will be...the best fountain should almost be like hearing ocean waves and not like the sound someone dumping a bucket of water into a toilet bowl!

Before we go too far, let's look at the different kinds of fountains so you can make the best choice for your pond. There are few different styles of fountains. One of the most common is the floating type where a float holds a submersed motor that spins some sort of propeller or shoots water through a nozzle to create a decorative display in the air.

Another type uses a water pump on shore with an intake in the pond and a nozzle connected to a float with a water line coming from the pump. The third type is a fixed fountain where a pump and nozzle are placed in the pond or basin. There are advantages to each style of fountain and price points can be varied.

Fountain Heads and Nozzles
Fountain Heads & Nozzles
| Aquascape Garden Fountains
| Outdoor Garden Statuary
Probably the least expensive method of building your own fountain is to buy an inexpensive fountain head or nozzle and attach it to some PVC or SCH 40 pipe that is fitted to the outlet of a submersible pump. Most pumps have 20 foot cords so unless you have a small backyard pond you won't be able to set the pump in the center of the pond but will need to run your water pipe from the pump, which is close to the shore as far out as the power cord will allow.

You should use the largest pipe diameter you can do reduce any flow reduction due to pipe friction. Flexible tubing can be used to run to they spot in the pond where the fountain nozzle will be. The nozzle can be attached to a metal pole that is inserted solidly into the pond bottom or you could rig up some sort of float.

I've seen some Styrofoam floats that were effective but were very ugly and basically ruined the look of the fountain. Attaching the fountain spray jet to a float can work if the float is anchored properly and is made to be discreet. I have found that attaching the spray jet to some sort of steel pole is the best as you can make sure it is out of sight and doesn't spoil the look of the pond.

Every pond nozzle has a recommended number of gallons per hour of flow to achieve various heights and diameters.

There are geyser type nozzles that will shoot a frothy column of water straight in the air and there are more decorative, almost floral, atterns that have multiple tiers that cascade to different heights in wonderful formations that will look good from any angle around the pond. Just make sure to use the proper sized pump with the right amount of flow and take into account the pipe length between the nozzle and the pump as this can reduce the flow but about one foot of head per ten feet of pipe length.

Some jets and geyser foam effect nozzles are injector nozzles whose effect is dependent on the water level.

Care should be taken when using these nozzles because if the water level drops the once thick frothing geyser jet will become more like a thin stream like a garden hose shooting in the air without form of decoration.

Because of the injection effect, surrounding water and air are sucked in, intensively mixed and thrown high into the air by the injector jet.
This has an economical effect, since with a relatively low pumping power a voluminous, tapered fountain jet can be achieved. The water pattern can be changed by varying the water level. At lower water levels the jet is tall and slender, above standard levels it is short and full.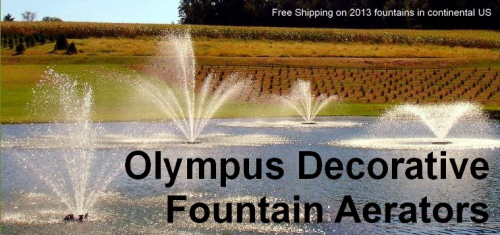 In certain basin arrangements a wave effect may appear, creating a very interesting visual effect. Check valves must be installed in designs with different water levels to prevent water from draining back through the nozzle when the fountain is turned off.

If your pond is smaller there are some fountain kits that include various nozzles. These are usually small and only good for backyard ponds and water gardens as the sprays are the common bell pattern or mushroom as it is sometimes called.

There are some fancy dancing waters type of small fountains that have LED lights and flexible nozzles that swirl and dance, some of them even move to music!

Floating Fountains
Fountain Heads & Nozzles
| Aquascape Garden Fountains
| Outdoor Garden Statuary

We typically see these types of fountains in ponds that are larger than 1/4 acre or 10,000 square feet in size. Smaller backyard ponds and water gardens typically use fixed base fountains which we will discuss later on, for now let's look at a typical pond or lake that is between 1/4 and and 5 acres.

This is the main size of ponds that we typically install a floating fountain and the reasons are many. These systems have submersible cords that connect to a shore mounted control panel so all you need to do is anchor the fountain float in position and run the underwater cables to shore and plug it in; there's no heavy PVC tubing or costly flexible 2" hose to run between a water pump and the nozzle.


1/2 HP, 120V, 50Ft. Cord, Model# 2400VFX



120 Volt display aerator with black float ring. Produces a V-shaped display pattern 15-ft. in diameter and 5ft. high. Includes power cord, C-25 (120V) control box, two 50-ft. black mooring ropes, plus a top and bottom screen. Model: 2400VFX




3/4 HP, Model# 3400VF



120V display aerator with black float ring. Produces a V-shaped display pattern 21ft. in diameter and 6ft. High Includes 100ft. Power cord, C-25 control box, two black mooring ropes, plus a top and bottom screen. Light kit and other cord lengths available Model: 3400VFX



3/4 HP Multi Nozzle, Model# 3400JF050



Provides water oxygen and agitation for a healthy pond 5 beautiful patterns: Sequoia (7ft.H x 4ft.W geyser), Linden (6ft. x 3ft. inner tier and 3 1/2ft. x 20ft. outer tier), Cypress (6ft.H x 16in.W 9-stream arch), Willow (4 1/2ft.H x 15ft.H V-shape) and Juniper (3ft.H x 20ft.W V-shape) Includes float, mooring ropes, control panel



2HP 8400JF100 2HP Multiple Nozzle



Kasco Marines 8400JF 2 hp Floating Aerating Fountain or Decorative Fountain Aerator is great for larger ponds or when multiple large patterns are desired. 8400JF Floating Fountain is unique for its size in that it comes standard with 5 interchangeable nozzles.

In these fountains, the motor is held just below the surface of the water by a black or blue low-profile float, some fountains have white floats but I find these to be a bit too noticeable on the surface so prefer the black or blue.

The motor is usually a stainless steel casing protecting an oil-cooled motor; the motor usually has some sort of propeller system to push water at high speed through a nozzle or flow-straightening tube to create a decorative effect. Many of the best brands on the market offer interchangeable nozzles or packaged kits that contain many premium nozzles that can easily be changed by the end-user.

A favorite with golf courses, municipalities, campgrounds and recreational parks as well as typical pond owners who just want to add a little decorative splash to their backyard pond. Because these are floating units any fluctuation in water depth will not affect the final spray pattern. In some fixed fountains a drop in water depth can lead to misshapen spray or to unsightly lengths of tubing and steel anchors showing above the surface. For practicality and ease of installation these floating models are really the simplest to use and upkeep.

AirMax Eco Series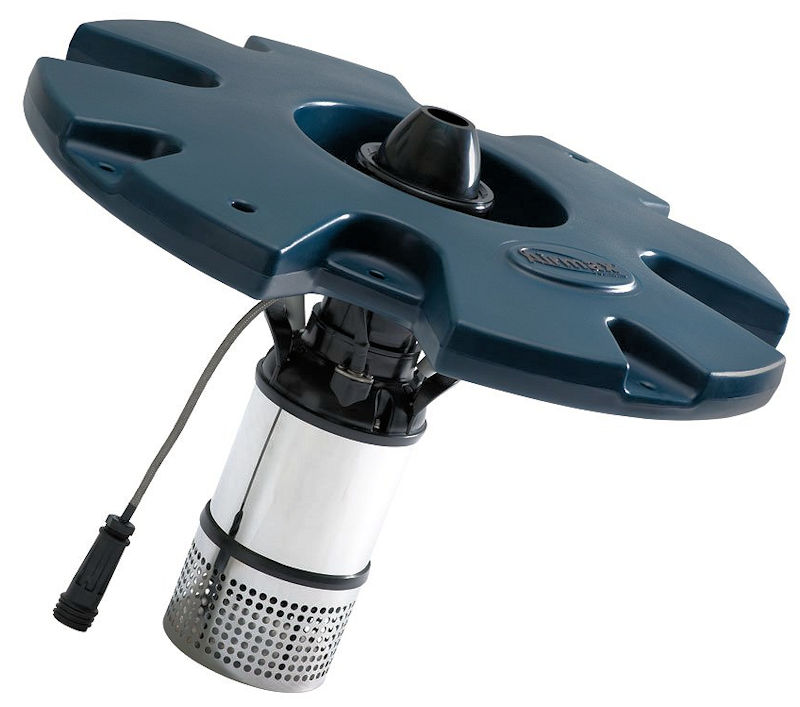 Includes 1/2HP motor, 3 spray patterns, control panel and 100' power cord 100' Cord is protected by PolyFlex material to prevent damage by pests Operates in as little as 24" of water depth Industry-leading spray patterns that outmatch 3/4HP and 1HP fountains Protected by 3 Year Warranty

100' Cord is protected by PolyFlex material to prevent damage by pests. The EcoSeries Floating Fountain showcases beautiful industry leading spray patterns that outmatch other 3/4 HP and 1 HP fountains. The EcoSeries Fountain operates in as little as 24 inches of depth and includes an energy efficient 1/2 HP motor, 3 spray patterns, control panel and comes with 3 Year Warranty. The EcoSeries 1/2 HP Fountain was designed to be easy to assemble. No tools are required for assembly or when changing nozzles. The EcoSeries Fountain is equipped with a quick disconnect cord for easy removal of the motor and float. The 1/2 HP motor is energy efficient drawing 6 Amps, 690 watts on 120V power. The asynchronous motor, silicon carbide shaft bearing and ceramic shaft are housed in a stainless steel body with suction screen. The EcoSeries Fountain comes standard with 3 spray patterns: Classic, Trumpet and Crown & Trumpet. The included control panel is set-up to run your fountain and any optional LED Light Sets (not included).

Kasco Fountains
Kasco Standard Display Fountains |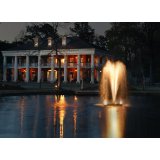 Kasco Multi-Nozzle Display Fountains




"Family owned for over 4 decades, Kasco Marine has been a recognized leader in products that promote healthy water quality in ponds and lakes. Kasco manufactures a complete range of floating fountains, pond aerators, water circulators and de-icers for projects of all sizes."
Courtesy of the KascoMarine.com Website

One of the more popular fountains of all those we install and recommend for our clients, these well built models have exceptional construction, are made in the USA, and have a long 1 to 3 year warranty.

Easy to install and put together right out of the box the nice feature of the Kasco models 3400JF, 4400JF and 8400JF, 3.1JF and 5.1JF are that they come with multiple nozzles in the same kit! Changing spray patterns is as easy as turning a screwdriver; units have debris screens, lockable control panels, mooring ropes and optional halogen lighting kits for glamorous nighttime water features.

All Kasco fountain reviews we've done have been excellent. Customer satisfaction is extremely high with the product and in dealing with the manufacturer on the few warranty issues that ever arrive. Probably the highest rated fountains of all we've tested and installed because of the affordable price and simplicity of design and ease of owner-operator installation and maintenance.

Our Kasco fountain reviews are based on feedback from over 200 clients as well as our own experience in the field with these products. Ideal for small ponds, medium sized lakes, and even commercial and municipal settings. Manufacturers Website : www.kascomarine.com



Scott Aerator Fountains Scott Aerating Fountain Displays




"Scott Aerator Company's main focus is to supply you, our customers, the highest quality value-based pond fountains and water aerators on the market. Your satisfaction and enjoyment has been this family owned business number one goal for over 40 years. Located near Grand Rapids on the shores of Lake Michigan, Scott Aerator provides you with a convenient source for tested and proven American manufactured fountains and water aerators - guaranteed. "
Courtesy of the ScottAerator.com Website.

Scott Aerator fountains are an excellently built line of fountains, American made, that are not as well known as other models but everyone we've spoken to who has one of these fountains has only said good things about them. Easy to install, exceptional quality and craftsmanship and an extremely nice spray pattern array make almost all the Scott aerator reviews extremely positive.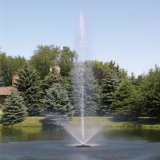 Scott Fountain Displays


Clover Bigshot Fountain
Clover Fountain 1.5 HP
Skyward Bigshot Fountain
Skyward Fountain 1.5 HP
The Atriarch
The Belcrest
The Chesapeake
The Gusher Fountain
The Jet Stream Fountain


Scott Aerating Fountain Displays


Boilermaker Aerator
Boilermaker Aerator 1 1/2 HP
DA-20 Display Aerator
DA-20 Display Aerator 1 HP
North Star Fountain Aerator
The DA-20 1 1/2 HP Display Aerator
Scott fountains are well built and are light on power consumption, so are popular with many of our customers. Lighting kits are optional and have colored lens kits that can be placed over the lamp housing unlike other brands which require you to actually change the light bulb if you want colored lights.

The timing center is an option which some folks actually prefer because if you don't need a control panel why pay for one?

Most models come with a standard 70' of submersible electrical cord most models only need 26" of water depth to perform. Overall this is a dependable fountain with a good warranty and, perhaps more importantly, some very high spray patterns at a low cost!

Every Scott Aerator Company fountain and aerator comes with an unconditional, 5-Year motor warranty, the best in the industry. All of our products are made in the USA of oil-free stainless steel components guaranteed to be the most environmentally friendly water features on the market.

The Scott Aerator Fountains creates an impressive cascade of water that sounds as beautiful as it appears! The brass center nozzle of the Scott Aerator Fountains sprays at heights of up to 20 feet, and it's surrounded by separate side nozzles which create a spectacular angled spray pattern, projecting water over 15 feet at a 45 degree angle.

When purchased with the optional 1 ½ hp oil free motor, the "Clover's" main stream will reach heights over 40 feet and the side nozzles over 20 feet. Form and function can coexist, as the Scott Aerator Fountains not only beautifies your pond but it also provides a healthy aquatic environment through oxygen transfer and water circulation. Like all of the products Scott Aerator manufactures, the Scott Aerator Fountains utilizes a stainless steel, oil-free submersible motor, making it the most environmentally friendly style of fountain on the market.

The Scott Aerator Fountains is proudly manufactured in the USA and carries an unconditional 5-year motor warranty. This unit comes with 70 feet of submersible 12 gauge cable, greater lengths available. Available with lights too! GFCI required, please disconnect power source when swimmers present.
Manufacturers Website : www.ScottAerator.com

Fountain Heads & Nozzles
| Aquascape Garden Fountains
| Outdoor Garden Statuary


AquaMaster Fountains
"Worldwide leader in the engineering and manufacturing of fountains, aeration equipment and natural microbial products for any aquatic environment.AquaMaster® products are available in both 60 and 50 Hz, from 1/3 to 25 HP, in whatever voltage is required. With thousands of successful projects around the world, we know you'll be pleased with your AquaMaster® Fountains and/or Aerators product's performance.

Our Commitment to Excellence in designing, building and delivering Superior Aquatic Management Systems is the key to your success. Choose the industry leader for quality and dependable Fountains, Aerators and MasterClear Natural Microbial Products for all your aquatic requirements." Courtesy of the AquaMasterFountains.com Website.

AquaMaster fountains are certainly a premium brand of fountains with one of the longest warranties in the industry and a superlative material construction, also built in the USA. The typical AquaMaster fountain adds over two pounds of oxygen per hour per horsepower to ponds. There float system is ultre-sleek and discreet and helps eliminate unwanted splash noise and maintains stability in rough waters. AquaMaster fountain reviews have consistently been extremely good, when a product is put together in such a professional manner it's easy to see why.

The small and medium sized units have a plug and play sensibility that allow quick installation and the larger models on wheeled carts can be launched from a boat launch and easily anchored in place. High quality steel construction control panels with a wide variety of options including photocell for lights, digital timers, wind sensors that lower the spray pattern on larger models as well as lighting sequencers that allow you to customize the lighting patterns to create dazzling displays for private or commercial settings.

Classic Series 1/2 - 5 HP : AquaMax, Crown, Cloverleaf, Crown & Geyser, Crystal Geyser, Plume, Geyser, Plum Tree, Standard HVF, Wide Geyser

Masters Series 1/2 - 10 HP : Ace, Augusta, Bayside, Baytree, Birdie, Biscayne, Captiva, Champion, Crown & Geyser, Crystal Geyser, Cypress, Diamondback, Double Eagle, Eagle, Firestone, Geyser, Half Moon, Lakewood, Longbow, Medinah, Monterey, Par, Prestwick, Red Tail, Reflection, Sanibel, Sawgrass, Turnberry, Valhalla, Wide Geyser, Royal

Celstial Series 10 - 25 HP : Aquarius, Aries, Gemini, Leo, Libra, Pisces. Taurus, Virgo, Scorpio

Quality Warranties • Masters Series® - 1 to 5 HP; 5 years, ½ , 7.5 and 10 HP; 3 years • Classic Series - 1 to 5 HP; 3 years, ½ HP; 2 years • Celestial Fountains® - 10 to 25 HP; 3 years • Fixed Base Fountains - 1 to 5 HP; 5 years, ½ HP 3 years • Volcano II and Hydromax - 1.5 to 5.5 HP; 5 years, ½ HP 3 years • AquaAir® - Compressor & Cooling Fan; 2 years • AquaAir® - Diffuser, Tubing, Cabinet; 5 years • Oxymax® & Ultimax® 1 to 5 HP; 3 years, ½ HP; 2 years • Night Glow Lighting - 3 years (lamps have no warranty) • Control Panel - 1 year • Industry's Only Total Component UL, cUL Listing and CE Mark Not just individual components, but complete product assemblies. • Industry's Best Delivery Lead Times Equipment there when you need it, up to 5 HP shipped within 5 days. • Ease of Installation Up and running out of the box with 2 people in only 2 hours. • Competitively Priced Value Added Products Most competitive price points in its class.

Masters Series® fountains are custom designed and built for superior performance and longevity; available in 30 beautiful spray patterns with sizes range from 120 volt single phase to 575 volt three phase (60 Hz) and 220 volt single phase and 440 volt three phase (50 Hz). Units include Ground Fault Protection as standard equipment (except 575V). All models (except 50 Hz) come complete with in-house built UL and cUL Listed NEMA rated electrical control panels, with timer. Panels are standard in galvanized painted steel. Stainless steel and fiberglass are optional. Multiple units can be controlled from a Custom Control Panel (CCP).
Manufacturers Website : http://www.aquamasterfountains.com/
Email us for information or with your questions.




Pond Report Store

The pond report also has information on:
Algaecides & Bacteria | Deicers & Bubblers | Weed Removal | Liquid Bacteria | Pond Pumps & Fountains | Aeration | Winter Pond Care | Algae Control | Pond Liner | Muck Pellets | Build a Solar Aerator | Rotary Vane Compressors | Floating Fountains | Building a Pond | Linear Air Compressors & Pumps | Weighted Airline | Diffusers & Airstones | Solar Aeration Systems | DC & Battery Operated Pumps | Windmill Aeration | Dock Bubbler Packages | Building a Waterfall | Dyes & Colorants | Consultations | Questions & Answers | Links & Resources | Eurasian Milfoil | | Mosquito Control | Pondkeeper Treatments | Aeration Systems | Septic Bacteria | Grease Trap Blocks | Compost Aeration | Dissolved Oxygen Meters | SOTR & Pumping Rates | Portable Generators | Duckweed Control | Pond Plans & Pond Building Books & Guides |

© 2007 - 2019 The Pond Report

about us | privacy policy | contact us