Linear Air Compressors, Diaphragm Compressors and Silent Pond Pump

The most efficient linear air compressors & diaphragm pumps for pond aeration and other applications where clean, constant oilless air is required
We use mainly these three models of small linear diaphragm pumps and cheap pond pumps so please take the time to understand the limitations and benefits of each one. If you have any questions or need help we will be glad to assist you!

Understanding the concept of building the perfect aeration system means having a basic understanding of the various air pumps, blowers and compressors that are available. The compressor or pump you choose will require some understanding and knowledge as to what you need the pump to do. Every pond diffuser, every length of airline, and every airstone connected to your compressor will require a specific CFM (cubic feet per minute) of airflow as well as a required PSI (pounds per square inch) to overcome the head-loss and internal friction of every foot of tubing and the specific resistance inherent in the diffuser system being used.

One important factor in choosing a silent linear air pump or diaphragm pump is to understand that it requires 1 PSI to push air bubbles to a depth of 28" or 2.3 feet deep. So if your pond averages 6 feet deep then before you even consider the number of diffusers or thetype of diffusers to be used you have to ensure your electric linear air compressor can deliver at least 2.6 PSI. But be careful because each diffuser, whether it is a diffuser disc, an airstone or some sort of homemade diffuser that you want to hook up to your cheap pump, all of them will have a certain resitance that will add pressure requirements to your formula. A single membrane disc diffuser for example can add an extra 12 inches of virtual depth (this means that every disc in your aeration system will demand an extra 0.42 PSI on your compressor) while a high-efficiency glass-bonded diffuser only have a registered air resistance of less than 0.25 PSI.



Linear Diaphragm Air Pumps


Price Includes USA Shipping
Each long-lasting pump uses a heavy, cast-aluminum, drip proof housing. Standard models are 115V/60 Hz with 6' power cords. UL-listed and CE-approved. Three-year warranty (does not include filters or diaphragm). More Info

60 LPM Diaphragm Air Pump
2.2 CFM Open Flow 6 PSI maximum - $425

120 LPM Diaphragm Air Pump
4.4 CFM Open Flow 7 PSI maximum - $550

250 LPM Diaphragm Air Pump
9.0 CFM Open Flow 7.5 PSI maximum - $1075
Linear Piston Air Pumps


Price Includes USA Shipping
These are not linear "diaphragm," but true linear "piston" type pumps. Since the only moving part—the piston—floats on a bed of air, a exceptionally long service life can be expected. More Info

57 LPM Linear Piston Pump
2.0 CFM 3 PSI max - $360

85 LPM Linear Piston Pump
3.0 CFM 4 PSI max - $450

160 LPM Linear Piston Pump
5.7 CFM 4 PSI max - $600
Diaphragm Air Pumps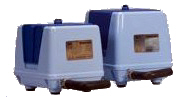 Price Includes USA Shipping
These sturdy, reliable, very quiet pumps will provide a long service life. Built for outdoor use, The diaphragm air pumps deliver oil-free air with a maximum pressure of 4 psi. Each pump has a 3/4" barb outlet and grounded power cord (6 ft). More Info

50 LPM Diaphragm Air Pump
1.8 CFM 4 PSI max - $325

82 LPM Diaphragm Air Pump
2.9 CFM 4 PSI max - $355

Secure Shopping with Credit Card or Paypal®

More products available at the

Pond Report Store

If you are considering one of these compressors then you likely are not running long lengths of tubing...most of these low pressure systems can pump air through standrad 3/8" and 5/8" for small distances from 50 or 200 feet depending on the compressor.

It is only when you need a compressor to push air through several hundred feet of airline you need to cinsider the line loss calulation of airline which is the amount of pressure and friction that builds up against the walls of the tubing and the associated loss of pressure. This means that in a length of 200 feet of tubing you might require an extra 2 PSI to overcome the air volume friction based on the inner diameter of the tubing.

Linear Diaphragm Air Pumps
With a higher PSI output and much lower watts than any pond pump or compressor on the market these cheap air compressors have become our favorites when the pressure requirements are beyond the WhiteH20™ models listed above. With the smart and efficient motors in these UL-Listed and CE-Approved pumps, pond aeration systems just keep getting easier and any home-made do-it-yourself aeration system will be trouble-free with with these long-lasting and powerful linear air pumps.

The linear air pumps used by ThePondReport.com average about 40% more airflow and about 20% lower 110/115 V power consumption than similar models. 230V is also available for the same price. Specify your power needs by email when ordering. You will see similar looking air pumps imported from Asia like pumps from China or Tiawan Made pumps but the SweetH20® brand is significantly different and while we don't want to insult any manufacturer...these pumps are the best available!. These are designed for 60-Hz (North American) operation to produce maximum efficiency. These linear compressors model permit continuous operation exceeding 3 years in normal continuous usage.

The only maintenance required is minimal: Simply clean the air inlet filter as needed with a few sharp breaths, a vacuum passage or according to the included instrcution manual. As with all of our oiless pond aeration air pumps there is no need for lubrication, and the included outlet air is always clean. Besides being ultra-efficient they are also super-quiet. These units are often found in University classrooms, pet store or laboratory or anywhere, including the pond, where clean efficient pumps are a must!

Each long-lasting pump uses a heavy, cast-aluminum, drip proof housing. Standard models are 115V/60 Hz with 6' power cords. UL-listed and CE-approved. Three-year warranty (does not include filters or diaphragm). Available in 230 V and 50 Hz by special order only. To maximize the life of these linear compressors it is best to keep the unit in a shed or build a small structure like a doghouse to hold it from the elements.

By operating your pump within the correct pressure range (we like to stay about 25% less than the maximum PSI rating of the model) you will greatly reduce the need for changing diaphragms, heads or valves. Purchasing a repair kit, despite your best installation intentions, is not a bad idea. If all parameters of the pumps are respected you may need to change the diapghrams once every 24 to 48 months but it's easier to have one on hand in your tool-shed instead of buying your repair kit online after a break-down as often fish don't take a fancy to being a week without air! Because these pumps have an available repair kit they are our highest reviewed pond aeration pump.

Linear Piston Air Pumps
These are not linear "diaphragm," but true linear "piston" type pumps. Since the only moving part—the piston—floats on a bed of air, a exceptionally long service life can be expected (8 years of continuous life is not uncommon). You will experience exceptionally quiet, energy-efficient operation and clean, oil-free air. An outdoor-rated housing, a grounded power cord, 3/4" hose barb and 115V/60 Hz are all standard. UL-listed. One-year warranty.

• Extremely quiet.
• Outdoor-rated housing.
• True linear piston.
• Exceptionally long service life.
• Outstanding energy efficiency.

Diaphragm Air Pumps
These tough air compressors can feed 1 to 5 pond diffusers or airstones (according to CFM requirements) in a pond up to 8 feet deep. Best longevity is delivered when operating pressure is between 2.2 and 3.5 PSI ...see the operating curve chart below to design your homemade aeration system using these pumps or send us an email with questions. Run one or more diffusers or airstones with these pumps!

I have so many clients ask where to get a long lasting air pump to run a few diffusers and have found a good line of imported, outdoor rated air pumps and I finally found a line that I think outperforms many models that I have reviewed.

These are sturdy, very reliable, and quiet air pumps that will provide a long service life and they have a two-year warranty which isn't bade because I've tried many diaphragm pumps that seem to need a diaphragm repair kit every 6 months! Built for outdoor use, keep it protected to prolong the average life-expectancy. You don't need anything fancy; just build a small box, preferably with ventilation (small fan) to keep your pump out of the snow, rain and away from the gnawing teeth of muskrats, beavers or other pond creatures. They are designed for outdoor use but why not protect your investment?

WhiteH20™ pumps deliver a more-than-modest output from 1.8 to 7.9 cfm (50 to 223 lpm) of oil-free air with a maximum pressure of 4 psi. Remember that each 2.3 feet of water is 1 PSI so with a max dishcharge of 4PSI you can pump air to a maximum of 9 feet with the larger model...but this doesn't include resistance from the diffusers you are using or the friction loss from the tubing etc. Each pump has a 3/4" barb outlet and grounded power cord (5 ft). UL-listed. Two-year warranty.

Use the specification curves of each model pump to determine how many diffusers can be used with each pump as each type of diffuser (silica bonded stone, membrane, pourous granite) will have varying resistance.





SECOH Air Pumps
Popular Models Include: EL-60, EL-80, EL-120W, EL-150, EL-220

The SECOH line of pumps is very popular in Europe but is now available in USA and Canada as well. The best price for a EL-60 is $275, the 80-17 is $325. Known to wear out wuickly if the max pressure reatings are surpassed the warranty is only one year.

Conversion guide/calculator : 1 l/min = 0.06 m³/hr, 1 m³/hr = 16.7 l/min 100mbar = 1m water depth Air Delivery : Please note that 'Open Flow' relates to the maximum air delivery with nothing connected (!) .. to calculate the actual air delivery at any given depth download the appropriate datasheet from our 'Free Downloads' section. All SLL & EL range pumps come with a European Schuko plug which can be cut off for direct wiring or an adapter can be supplied with a fused European to UK plug adapter. Euro price shown is fixed at x1.30. Actual price will be at the correct conversion on checkout. VAT is not a component of the price shown as Parts and Pumps is not currently VAT registered so does not claim or charge VAT. EL-120 W Secoh Pump EL120 W Twin Linear Compressor Optimal Pressure - 0.25bar Open Flow - 225 l/min Sound Level - 39 db(A) Max Power - 131w @ 200mbar Dims (LxWxH) - 268.5x357x228(mm) Connection - 27mm Ø Net Weight - 16kg see download section for more information Key Features : Same spares kit for both heads Optional outlet ports (New!) Lesser load and longer predicted lifetime using 2 heads and should one head stop you still get 50% airflow We recommend the purchase of a pressure relief valve SE11 with this pump to avoid over pressurisation. click to see larger image Price: £358.00 [€465.40]

Protect your pump with our new and improved housing and platform! SECOH SLL SERIES PUMPS Secoh Linear Air Pump Model SLL-40 1-year warranty 115V, 60HZ, 45W 1.62 CFM at 1.7 PSI Airflow = 46 liters of air per minute FREE SHIPPING! Secoh SLL-40 $225.00 Quantity: 9.70" L x 6.97" W x 6.93" H SLL Series Operating Instructions SLL Series Repair Instructions SLL-20-50 Pump
Secoh Linear Air Pump Model EL-60 1-year warranty 115V, 60HZ 2.6A, 56W 2.30 CFM at 2.1 PSI Airflow = 65 liters of air per minute SALE! FREE SHIPPING! Secoh EL-60 $275.00 Secoh EL-60
Secoh Linear Air Pump Model EL-80-15 1-year warranty 115V, 60HZ 2.6A, 61W 2.82 CFM at 2.1 PSI Airflow = 80 lliters of air per minute SALE! FREE SHIPPING! Secoh EL-80-15 $285.00
Secoh Linear Air Pump Model EL-80-17 1-year warranty 115V, 60HZ 2.6A, 71W 3.00 CFM at 2.4 PSI Airflow = 85 liters of air per minute FREE SHIPPING! Secoh EL-80-17 $325.00 Available at: www.septictankparts.com
ALITA Air Pumps

AL-15A -- $119.75 Power: 17W Output: 20 lpm (liters per minute) @ 1.4 psi - Typically good for at least 20-25 aquarium air outlets, variable depending on tank depth and the amount of air desired at each outlet. AL-40 -- $169.75 Power: 46W Output: 48 lpm @ 2.18 psi - Typically good for at least 50-60 aquarium air outlets, variable depending on tank depth and the amount of air desired at each outlet. AL-60 --$145.75 Power: 60W Output: 68 lpm @ 2.18 psi - Typically good for at least 65-75 aquarium air outlets, variable depending on tank depth and the amount of air desired at each outlet. AL-80 -- Buy it for $337.75 Power: 85W Output: 85 lpm @ 2.18 psi - Typically good for at least 80-95 aquarium air outlets, variable depending on tank depth and the amount of air desired at each outlet. The new style AL-80 takes the Al-80/120 repair kit. The new style pumps are apple green in color. The old style AL-80 takes the AL-60/80 repair kit. AL-120 Power: 124W Output: 130 lpm @ 2.9 psi - Typically good for at least 125-145 aquarium air outlets, variable depending on tank depth and the amount of air desired at each outlet.


ALITA Linear Air Pump Download Literature Designed to deliver high volume of steady airflow at low-pressure ranges, ALITA Linear Air Pumps are of high efficiency, low energy consumption and perform with low operation noise. With no sliding parts and oil-less components, ALITA air pump requires no lubrication and transfer air without any contamination. In addition to a wide range of standard pump models that can be utilized off shelf, we also offer OEM and customized linear air pumps to industry for original equipment application. OEM business demands reliability, performance, efficiency and customer satisfaction. Let ALITA linear air pumps be a part of your product solution. Product Features Steady airflow Oil free, no contamination or pollution Reliable intermittent or continuous duty operation Long service life Quiet and low vibration Low energy consumption Compact design and solid construction Indoor or outdoor operation Thermal protection Simple maintenance Applications Aeration Air purification Air sampling Bubble bath Gas analyzer Liquid agitation Medical and scientific equipments Pneumatic beds; air mattresses Wastewater treatment; aerobic treatment Various industry

RoHS Compliant RoHS Compliant = Pb-Free = Green Alita Linear Air Pump introduced from 2006 onward will meet the Restriction of Hazardous Substances (RoHS) compliance directive of the European Union. The full description of this legislation, commonly called RoHS, is "Directive 2002/95/EC of the European Parliament and of the Council of 27 January 2003 on the restriction of the use of certain hazardous substances in electrical and electronic equipment. The directive requires manufacturers to significantly reduce lead, mercury, hexavalent chromium, cadmium, polybrominated biphenyls (PBB), and polybrominated diphenyl ether (PBDE) content in electronics and electrical products sold in the EU beginning in July 2006. Alita developed an internal compliance team to direct these efforts and implement RoHS compliance under the EU directive. Alita implemented aggressive timelines to meet requirements in advance of the July 2006 compliance date and will continue to work closely with key customers on their specific requests. Available at: ww.alita.com


LINEAR air pumps from Malibu Water

Linear 40 - for aeration of small septic tanks and water tanks of 500 gallons or less. - $350 for complete system with 20' of 3/16" air line and diffuser. Linear 80 - for aeration of medium septic tanks and water tanks of 1000 gallons or less. - $450 for complete system with 20' of 3/16" air line and diffuser. Linear 120 - for aeration of large septic tanks and water tanks of 3000 gallons or less.- $650 for complete system with 20' of 3/16" air line and diffuser. 1 acre pond aerator - The economical, oil-less 905, 1/15 hp but fully capable to aerate a 1 acre pond completely - $350 w/ 100' of 3/8 air line and a lake bed diffuser. 3 acre pond aerator - large, heavy duty 1/4 hp oil-less air pump, 110AC, w/ 100 of 3/8" air line and lake bed diffuser. - $450 Note - the linear pumps are quieter than the oil-less piston pumps. A waterproof and sound dampening case is available for the above pumps @ $100 if needed. All repair parts are available for these pumps which all come with a one years manufactures warranty. There are no timers, fans, etc needed for these pumps. They are designed to run 24/7 for years. Koenders - 3 acre pond aerator w/ heavy duty water proof case - $650. This is a very heavy duty aerator made for farmers and ranchers. It weighs about 100 pounds. It is a bit noisy but a sound dampening case which can be buried is available @ $100 if needed. This pump will last for years, has a 1 year warranty, parts are available and we have sold thousands of them. Again, no timers, fans, etc. It is designed for running 24/7. It comes with 100' of air line and a lake bed diffuser.

QUIET AERATION - if quiet operation is necessary for any aeration project and you have 110AC available, we have fitted a submersible water pump into one of our large lake bed aerators that will drive the bottom water to the top of the surface....where the real aeration occurs. Not using air bubbles to lift the water does reduce the air exchange slightly but the pond is aerated very well with lots of water action at the surface thus providing all the usual aeration benefits. BACTERIA - We all run on bacteria...including our ponds. If you have a very bad algae or hydrogen sulfide problem that needs immediate attention, we can supply a 5 pound block of bacteria designed for nutrient removal in ponds. Put the block into our Lake Bed Aerator and the rising air bubbles will carry the bacteria into all of the pond water. The block will last about one month...which is about the amount needed to clean out a 2 acre pond. After the block is gone, just keep the air going. The good aerobic bacteria are there doing the job....eating all the algae's food....and replacing all the anaerobic bacteria that produce the Hydrogen sulfide. 5 pound block of Pond Bacteria - $50. Lake Bed Aerator - $350
Available at: www.malibuwater.com


Email us for information or with your questions.



Pond Report Store | Amazon Pond Store
Algaecides & Bacteria | Deicers & Bubblers | Weed Removal | Liquid Bacteria | Pond Pumps & Fountains | Aeration | Winter Pond Care | Algae Control | Pond Liner | Muck Pellets | Build a Solar Aerator | Rotary Vane Compressors | Floating Fountains | Building a Pond | Linear Air Compressors & Pumps | Weighted Airline | Diffusers & Airstones | Bacta-Pur Bacteria | Solar Aeration Systems | DC & Battery Operated Pumps | Windmill Aeration | Dock Bubbler Packages | Building a Waterfall | Dyes & Colorants | Consultations | Questions & Answers | Links & Resources | Eurasian Milfoil | | Mosquito Control | Pondkeeper Treatments | Aeration Systems | Septic Bacteria | Grease Trap Blocks | Dissolved Oxygen Meters | SOTR & Pumping Rates | Portable Generators | Duckweed Control | UK Pond Guides & Pond Products UK | Pond Plans & Pond Building Books & Guides


© 2007 - 2014 The Pond Report

about us | privacy policy | contact us | mobile